PTH-Montage
Pin Through Hole Assembly
Although it is becoming less common, the assembly of PTH components is still available for our customers. EES provides this service (Pin Through Hole) through machinery of the latest generation with both lead-free and leaded technology.
The possible PHT assemblies are:
Manual rework soldering performed on ESD workbenches by highly qualified staff with the aid of JBC and Weller soldering stations (multifunctional, micro soldering, heavy duty, heating plates)
Wave soldering/O-wave with IEMME-300 soldering machine
Selective soldering through ERSA ECOSELECT 2 "selective soldering systems"
Once completed, the circuit boards are tested in accordance to the IPC A- 610 E Class 3 with the aid of the automated optical inspection dpiX ™ 3-D performed using AOI Orbotech Vantage S22 machine or through visual checks with Vision microscopes and other control devices.
Ersa ECOSELECT 2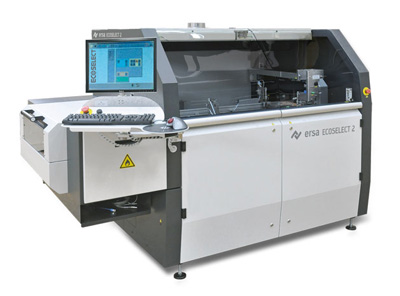 Innovative monitoring systems guarantee reproducibility of production parameters.
So the new concept of ECOSELECT 2 in line and off-line offers the best price / performance ratio for high quality selective welding, and is a perfect and flexible solution for the production of small and medium-sized series.